Salt Fog Test Chamber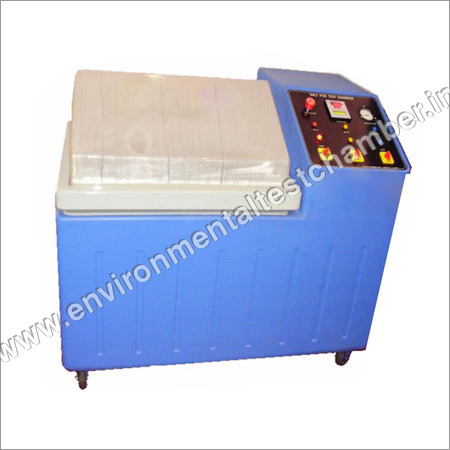 Salt Fog Test Chamber
Product Description
Since our establishment, we are highly engaged in manufacturing, supplying and exporting various glassware and laboratory equipments, further offering Salt Fog Test Chamber. This chamber is designed to check the rust resistance coatings of surface when comes in contact with salt laden environment. Offered test chambers are highly cherished among our customers as it creates real life weathering conditions inside the chamber to determine the corrosion proof ability of the components or samples. Moreover, this test chamber is provided with digital temperature controller through which temperature can be adjusted and controlled by the operator. Furthermore, the Salt Fog Test Chamber that we offer is installed with touch screen panel that helps in easy analysis of rust resistance. Available in varied configurations, our customers can buy this test chamber at best market leading prices.
Features:
Known for high functionality and long service life
Highly applauded for easy operation and monitoring
Compact and modular design structure helps in easy installation
Accompanied with castor wheels, hence, easy mobility

Further Details:

Introduction
The property of a product to resist to the atmospheric corrosion is a guarantee for good an excellent quality product itself.
The ever-growing needs of the domestic and international markets require performing corrosion tests, as per specific international standards that determines the resistance of any object.
Salt spray corrosion is internationally recognized as the main test to simulate the real operating conditions of a component and assess its resistance to corrosion in outdoor environments, testing various samples like coated or Non-coated, with plastic or metallic substrates. Since last years, corrosion tests have reached a huge importance in the industrial area, both in the characterization and homologation of materials.
The resistance of various kinds of materials that will be exposed to atmospheric corrosion is assessed through an accelerated weathering test run, following specific standards. From these test, it is possible to anticipate the effects that the corrosion, the main consequence of the exposure to a salty atmosphere, can cause in time to the exposed equipment and materials.
INDEECON Salt Spray and Cyclic Corrosion Test Chambers are designed to meet the most stringent testing requirements of corrosive atmospheres.The entire housing is constructed using non-corrosive material. Top lid is made up of acrylic and has a tapered roof as per the ASTM standard to avoid the condense droplets to fall on the Specimens.
Controller
Microprocessor based programmable PID controller with fuzzy logic offers fine and accurate control of set parameter using PT-100 sensor.
The control panel is consisting of dual LED display indicating performance value Vs set value of temperature in Celsius
Second Safety Thermostat
In case of failure of first system, the safety thermostat will control the set values to preserve the samples at ambient or atmospheric condition.

Validation
Validation of chambers (Temperature mapping) will be done at different zones in the chamber using pre calibrated multi channel scanner (4 or 8 channels) mapping of the chamber ensures the temperature inside the chamber is uniform to determine the temperature distribution.

Manual & Calibration Certifications
Operational manual with wiring diagram traceable calibration certificates factory test reports with mapping diagram.

Optional Accessories

Data logging software to communicate with the PC for Test Report generation.
DATA MANAGEMENT

Multi connectivity up to 32 units
Online & offline data representation - tabular or graphical.
Separate display formats for real time data & acquired data, for single or multiple chambers.
Special Attractions:
These fog test chambers are manufactured using superior quality corrosion proof materials, hence work perfectly fine under all weather conditions
Offered fog test chambers are used in testing various kinds of samples accurately which can be coated or non-coated with plastic, under any conditions
Our fog test chambers are acknowledged for their impeccable performance and are extremely easy to use
Our warehousing professionals dispatch these test chambers in superior quality packaging materials to ensure safe delivery
Quality examiners check our test chambers thoroughly to ensure flawless finish
Further, these test chambers are known for durability and have robust construction
Furthermore, offered test chambers are recognized for longer working life and hassle free operation

Technical Specification:
Test Space Volume

250, 450 & 100 Ltrs

Temperature Range

Ambient to 50o C

Humidity Range

95% to 98% will be provided during salt spray Depending on saturation of salt solution.

Temp. Control Accuracy

Better than + 1o C

Housing

The Chamber will be mono block construction that comprises all systems necessary for operation.
The exterior surface is made up of non corrosive material

Test Space

Made up of FRP or PP non corrosive material

Air and Solution Piping

Made of nylon or Poly urethane material

Insulation

The insulation material will be of low k factor, high density and non Hygroscopic nature of mineral fiber.

Door

The door will be made of non corrosive acrylic with hinges in the rear. The door will be designed having inclined ceiling provided with side wall baffles to avoid droplets falling on to specimen as per ASTM Standards. Option of Pneumatic Door lifting arrangement for user comfort for sample loading and unloading.

Air Regulator

A moisture and oil filter cum regulator ranging from 0-30 psi

Atomizer

Non corrosive trouble free atomizer capable of producing a fine fogs 20-30 micro moles size with repeatable test results.