Shaking Incubator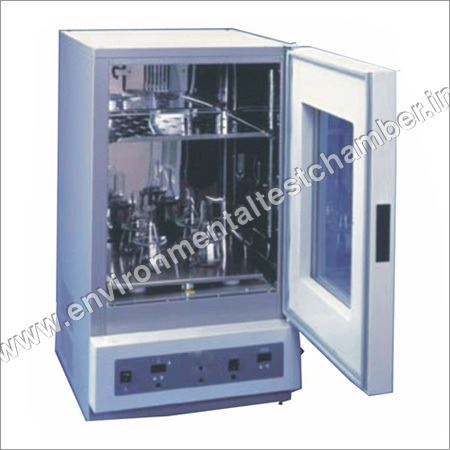 Shaking Incubator
Product Description
Shaking Incubator
We are the foremost manufacturer, exporter and supplier of impeccable quality Shaking Incubator which is used in various sectors such as medical, agricultural, industrial, research laboratories and hospitals. The offered product is designed in compliance with the set industry standards using the best grade raw materials and the latest technology. This Shaking Incubator is stringently tested on various quality parameters to ensure flawlessness. Moreover, our offered shaking incubator is widely acknowledged for optimum functionality, excellent performance, high strength and longer service life.

Salient Features
Compact counter balanced drive mechanism ensuring high stability and reliability even in continuous
Operation and uneven load distribution. Step less electronic frequency control ensures gentle start and
maintains preset speed. Brushless induction drive motor practically maintenance free. Digital display of Speed with preset facility.
Large viewing window and internal light provide clear chamber visibility, minimizing the need to open the door.
Rapid air circulation produces quick temperature equilibration and recovery, when needed Automatic restart after power interrupt with non-volatile memory keeps studies running smoothly. Audible and visible alarms alert the user to set point deviations.
Controller
Microprocessor PID controller allows setting desired temperature with fuzzy logic guarantees the high degree of accuracy and to response across a narrow range closest to set point. It has a dual LED display window to observe PV (performance value) Vs SV (set value) simultaneously.

Data Logger and Software for PC connectivity - Optional
Data logging with PC software 21 CFR part 11 compliance is an option to maintain documentation of performance record for audit trail so as to meet international test regulations under ICH guidelines. The software can be used commonly for multi units together being capable to link up to 32 units of INDEECON make

Manual & Calibration Certifications
INDEECON is committed to provide high quality products and services, to satisfy the customer before, during and after the sales in total by extending pre- requisition and validation with the support of detail manual, SOP, Calibration/Test Certificates and DQ, IQ, OQ and PQ protocols.
Sizes

Models

Approx. External Dimensions

Chamber Volume (Ltrs)

Max. shaking Capacity

Temperature Range

INDEE - S01

70w x 78D x 125H cm

180

9 Ltrs

5oC to 80 oC

INDEE - S02

63 W x 68 D x 60H cm

130

9 Ltrs

5 oC to 80 oC