Vertical Autoclave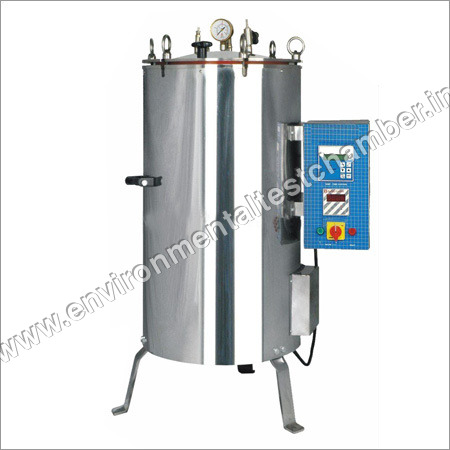 Vertical Autoclave
Product Description
Owing to our expertise in this domain, we are offering a premium quality Vertical Autoclave, which is widely demanded in Bacteriological & Research laboratories, Medical, Clinical & Pharmaceutical units, Fertilizer Plants, Breweries, Soft drink manufacturing unit, etc. Offered autoclave system is designed as per the international quality standards, which is further featured with several options like fast cooling, drying and waste treatment. It is designed to give a solution for a complete spectrum of sterilization requirements that include fluids, cell cultures, biological waste, glassware and various other laboratory equipments. Accommodating large number of applications, this Vertical Autoclave instrument can be added with various optional features as per need for sterilization. Available in varied standard models with different configuration, clients can place the order for this at reasonable rates.
Features:
Designed to sterilize less sensitive loads including glassware, liquids & solid
Made out by using superior grade stainless steel that provides strength and durability
Equipped with advanced microprocessor control panel for reliable operation
Compact in size, thus, cherished for easy installation

Further Details:

Full cycle including purging of stale air, sterilizing hold time and final steam exhaust at the end fully automated with out the human intervention.
Microprocessor based controller with LCD display.
Timer to preset the desired duration of sterilization cycle.
Data logger capable to store performance data of last single test run.
Auto activated solenoid valve for proper and accurate purging.
End cycle buzzer and auto reset.
Option of multi sensor scanner with print of scanning data.
Printer interface with the printer port.
PC Software for Report generation.
Applications
INDEECON have designed vertical Autoclave useful for many more scientific studies in clinical and industrial Laboratories for sterilization process.
Technical Specification
Model

INDEE-VA01

INDEE-VA02

INDEE-VA03

INDEE-VA04

INDEE-VA05

INDEE-VA05

Internal Size (cm)

25x45

30x50

45x60

45x76

55x76

55x85

Capacity in Litters

22

35

95

120

180

200

Vessel

Fully made up of stainless steel 304/316

Temperature Range

Ambient to 121o C/ 134o C

Temperature Accuracy

+0.2o C

Temperature Controller

Microprocessor dual display P.I.D. Controller with auto tuning

Temperature Sensor

PT-100

Heaters

Ring type tubular immersion heater

Water Low Level Sensor

Magnetic Float switch fitted above the heater for Heater protection

Purging System

Direct acting solenoid exhausts value.
First safety valve set at 17 PSI and second valve set at 20 PSI

Safety Valve

First safety valve set at 17 PSI and Second valve set at 20 PSI

Sealing of Vessel

Using neoprene rubber gasket

Electrical Requirement

230 volts 50 Hz AC single phase or 440 AC three phase power supply

Vacuum Breaker

Available as safety feature